GIVE YOURSELF A BREAK: Tarragona, 4 days and 4 secrets
For this break, you only need: 4 days, 1 Camper van and a desire to discover new places.
You can begin at the Ports, on Horta de Sant Joan's side, and climb from there.
Do you wat to know about some of the wonders you can find there?
Get a break when you need it.
Go away for 4 days, unwind, and come back as new.
Go at your pace and let yourself be surprised.
Go slowly, and if you find a place you like, stop and admire it.
Keep in mind the places where you don't stop but would like to. You can go back another day.
That's how you can go on a trip with a van. That's how you discover hidden places and lost secrets.
Are you on board?
Today I advise you to begin at the Ports, spending a couple of days there and then start climbing slowly.
That's what we've done. On Thursday we get to Parc Natural dels Ports from Horta de Sant Joan. We want to go climbing for a couple of days. It is an easy climb on good rocks, and assured quietness.
At night:
You can park in the first parking area in Horta de Sant Joan and spend the day there (https://goo.gl/maps/yKNU5fVNxzA2 ).
Further along, you can find a parking area where you can spend the night: L'Àrea dels Ateus.
Activities:
At the Ports one can enjoy a lot of different activities, and find one that suits your interests. We've gone swimming and hiking with the kids, and alone, we have been biking and climbing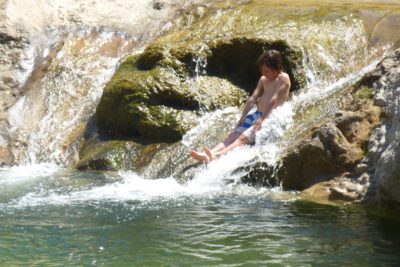 This time, we have climbed at les Gronses. Short slopes. During springtime you can never know when a storm will come.
It has been ideal to wake up late and just relax. In the afternoon, a bit of work needs to be done in the Van, and then, a good supper is prepared.
Be careful, in this area, climbing is restricted in some places during certain months!
I will leave here a couple of links with route ideas!
Map of the Ports: http://www.viulebre.com/downloads/Mapa_PN_Ports.pdf
https://terresdelebre.travel/que-fer/espais-naturals/parc-natural-dels-ports 
http://www.senderismealsports.com/es/
Now, two of the secrets I've promised you:
Before reaching Ports:
Secret n.1-
Go through Horts de Sant Joan, and look for Forn Valdovino. I won't leave an address, because it is impossible to get lost. When you get there, the only thing you have to buy is PANADONS.
You can choose from: spaghetti squash jam, chocolate or without filling. I recommend you try ALL of them!
Secret n.2-
Stop at the Repsol gas station between Horta and Arnes (leaving the Parc behind). You'll find different local products such as: orange flower honey, almonds, oranges (when in season) and even some new wine from the area that you hadn't tasted yet. Just let yourself be advised.  https://goo.gl/maps/Zb15wymXiz82
When you leave Ports, going on with the secrets, stop at Cornudella de Monsant.
First of all, enjoy the trip and the landscape, full of vineyards and lovely villages.
Stop at Cornudella for supper to discover the third secret:
Secret n.3- Restaurant Els 4 molins
http://www.ronadelles.com/ca/gastronomia/quatre-molins
It is a surprise to find a restaurant like this in such a small village.
Mainly, you have to like tasting menus. If you like them and think that you deserve a treat sometimes, Els 4 Molins is definitely worth it.
All the dishes are delicious, I wouldn't know which one to pick after trying them all.
For the drinks, ask for a recommendation and, if you can, try a white wine: Giral de Vinyes Velles. Very different. Special.
And last but not least, the great friendliness and professionalism of everyone on the staff there.
I can only tell you to enjoy yourself there!!!!
Secret n.4- The last big secret, that surely isn't a secret anymore.
Go spend the night at Siurana and go for a walk around the area there in the morning, whether you like climbing or not. It's absolutely amazing.
To spend the night, if you like the ambiance and company, there is an area near the road where all CamperVans settle in. If you are one to prefer quietness, there is a small track where you will find a retreat for sure. And if you prefer sleeping in a Camping, there is one near the village. So there is no excuse!
I've told all 4 secrets, but you will for sure find some more!
Do you want to share them?
https://catalunyavan.com/2018/wp-content/uploads/2018/06/els-Ports-amb-furgo-1.jpg
300
300
carlota
https://catalunyavan.com/2018/wp-content/uploads/2017/10/logotip.png
carlota
2018-06-12 14:25:44
2018-06-25 14:26:46
GIVE YOURSELF A BREAK: Tarragona, 4 days and 4 secrets