GOING OUT WITH OUR CAMPER: CLIMBING IN MALANYEU
A small place where to climb on winter time, with the sun heating our back. Climbing at l'Alt Bergueda, such a pleasure! 

Today we have wake up in Vic, we can see that is going to be a sunny day, although now there is a intense fog. Yesterday we went to the Torello Mountain Film Festival that finished at 1:00 am. We want to go climbing but it has to be a place near from here and a quick climb, it's winter time and the days are short.
TRAVEL:
We decided to go to Malanyeu, a small place in Atl Berguedà that we already know and we love. So we make some sandwiches and as we have all the equipment in the camper, we go ahead. In an hour we reached the town. The sun is shinning, the fog is gone.
THE CLIMBING ROUTE:
After looking the Vèrtex magazine and also the web page escalatroncs, we decided to climb the route: integral Farigola Indòmita. This route has two independent routes that you can join: Tal faràs tal trobaràs and Sajolida.
The approach to the wall is easy and so nice. The rock is rough and with many holes, althoug sometimes this makes you loss the concentration. It's hard for me to do first but here I go ahead in the first long. It has the perfect point of demand and pleasure.  In the first and second long you have to put some extra insurance but in the third one this changes and there is enough insurance to go on.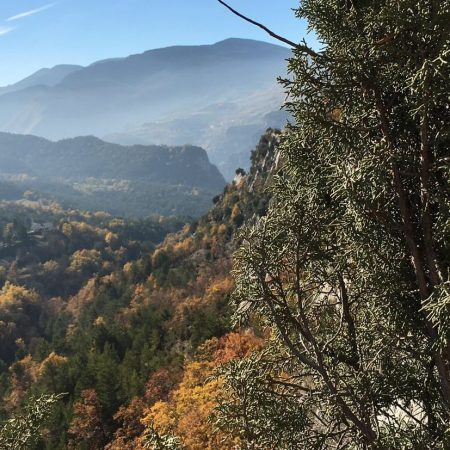 As long as we go up, the autum landscape becomes more and more evident and spectacular. When we stop and look arround us, we think about the lucky we are. We are an hour from home and we can enjoy this amazing, quiet and beautiful place.
On the way down we have to do 3 rappel.
But before that we sit at the top and while we look at the beautiful place we eat a bit.
Now we can relax!!!!!
When we finish, we put all the equipment in the camper and we go to the bar to have a beer. Today we haven't turn the fridge on, so we can go to know a new place to have a drink.

Gastronomic place:
We drive from Malanyeu and on the right side of the road there is a restaurant. A masía (tipical catalan house, like a farm) Friendly people, we have arrived at 5 pm. they were closing but they still have offered us a plate of pasta.m We take a fresh beer that tastes like heaven!!!
If you want to go, you will have to guess where exactly is. There is no sign that shows the place. They told us they don't need to be known☺ Slow life!
For sure we come back climbing to this place. Perhaps in our way to the Pirineos. To make a stop and enjoy a climbing day before doing other activities in higher mountains. I already have seen some places to spend the night with our camper
Do you know the place? Why don't you tell us?!
If you don't know, go and try it, I'm sure you will like it and then….. come back and tell us about your experience!!!!
https://catalunyavan.com/2018/wp-content/uploads/2018/03/furgoneta-camper-van-escalada-malanyeu-catalunya-1.jpg
666
1000
carlota
https://catalunyavan.com/2018/wp-content/uploads/2017/10/logotip.png
carlota
2018-03-27 11:25:24
2018-06-24 20:56:19
GOING OUT WITH OUR CAMPER: CLIMBING IN MALANYEU